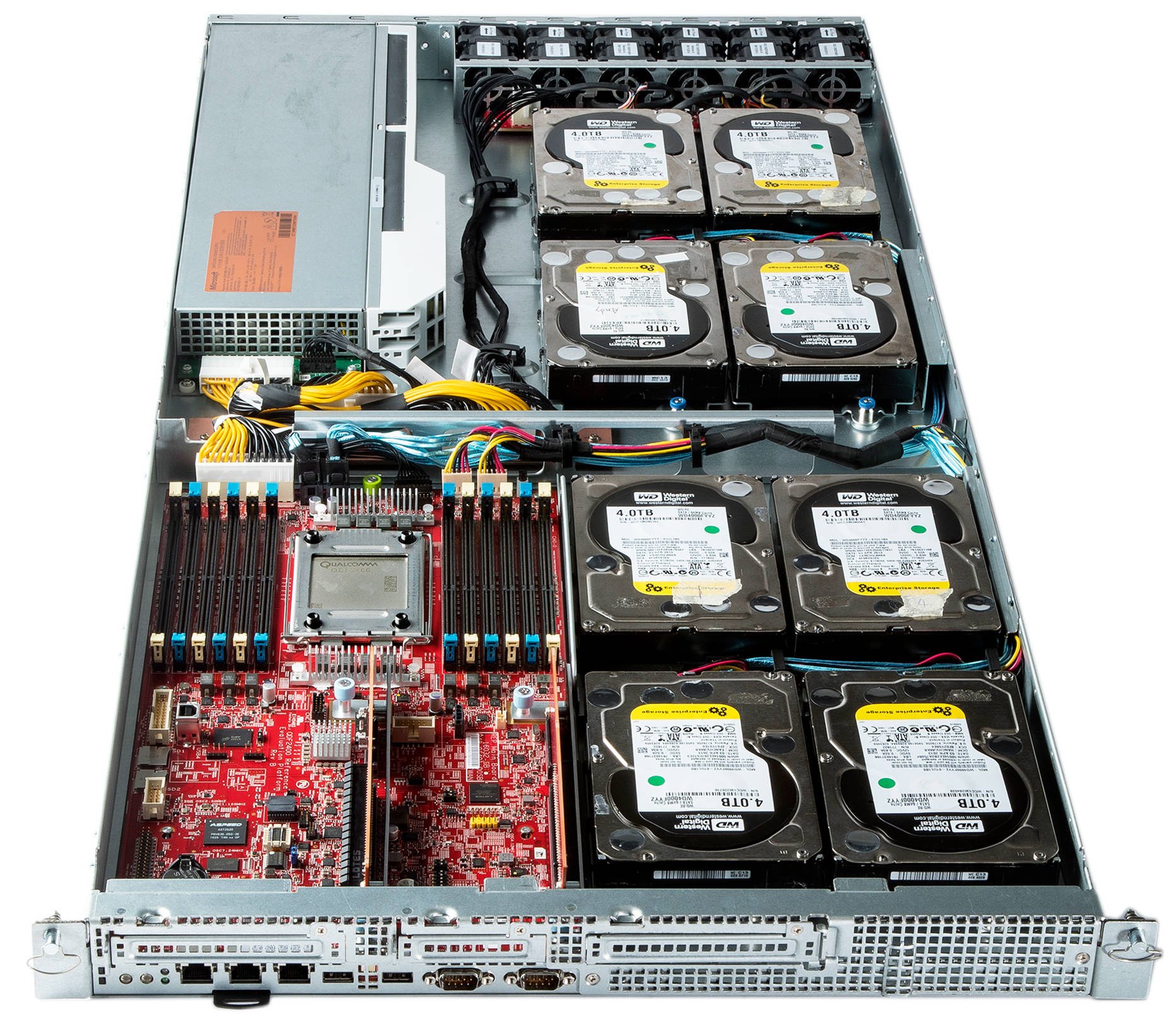 That statistic will come under attack with some chip and OS announcements on Wednesday. The partners are demonstrating the ThunderX-based Windows server running cloud workloads during this week's Open Compute Summit. Moreover, Microsoft is working with ARM Limited, the provider of the chip designs, on open standards for ARM64 servers for use in datacenters.
QDT has also submitted the Centriq 2400 Open Compute Motherboard server to the Open Compute Project (OCP).
This comes after it was revealed today that Microsoft had ported Windows Server 2016, plus language runtimes and middleware, to Qualcomm's 64-bit ARMv8-compatible 10nm FinFET Centriq 2400 system-on-chip, and to Cavium's 14nm FinFET 64-bit ARMv8-compatible ThunderX2 processor.
Intel's dominance could be further eroded as Microsoft looks to alternative chipmakers for its cloud hardware. Since Microsoft warmed up to the idea of using ARM on laptops, its gravitation towards servers using ARM seems like a normal progression. Sankaran expects that there will be some systems powered by the X-Gene 3 chips coming to market later this year, probably in the third and fourth quarters, but that the ramp will begin in earnest in the first quarter 2018 after the SoCs become generally available.
Qualcomm has developed special Windows Server hardware based on its Centriq 2400 processor.
Intel (NASDAQ:INTC), the market leader in server processors, has expressed its intention to more aggressively migrate its server processor portfolio to its latest-generation manufacturing technologies than it traditionally has.
More news: Pregnant Ciara Involved in Car Accident in LA
Firstly, there is a healthy ecosystem with multiple ARM server vendors. Microsoft's support for Qualcomm is a strong statement that the software company is ready to consider an alternative architecture for Windows Server.
Just a couple of days ago, Qualcomm and Microsoft sent tech media into a frenzy by announcing Windows Server on ARM.
The chipmaker is now sampling small quantities of these ARM server chips to its partners for testing but plans to make it widely available by the end of this year. "There is more opportunity now to increase dynamic competition in the server market". Companies are also hesitant to invest millions to switch over from a stable x86 infrastructure to an unproven ARM architecture. Does this mean you would be somehow running only these workloads on ARM servers and other Azure workloads on Intel/AMD servers? "We have seen ARM servers benefit from the high-end cell phone software stacks, and this established developer ecosystem has significantly helped Microsoft in porting its cloud software to ARM servers", the company said in the blog post.
Microsoft has been running evaluations of ARM servers side by side with its Intel-based production workloads, noted Microsoft Distinguished Engineer Leendert van Doom. Recent moves by Microsoft and Qualcomm may soon make it a reality.
Many other companies like Dell and Lenovo have similarly talked glowingly about ARM servers in the past but failed to deliver stable systems.
The issue with ARM chips on Linux servers has been the same as on Microsoft - a lack of software and performance questions.