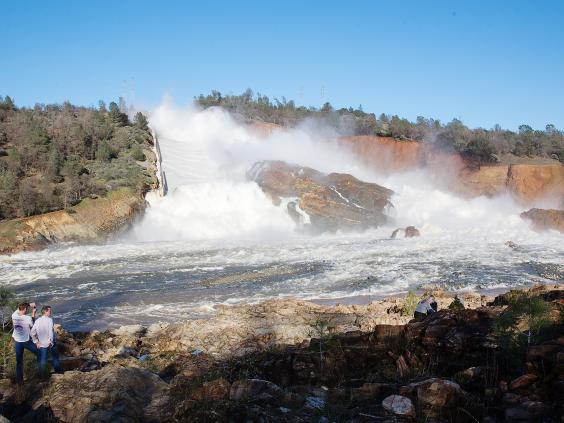 California Department of Water Resources Acting Director Bill Croyle said he was "not familiar with 2005 documentation or conversation" about spillway concerns and emphasized the efforts underway to understand the current dynamics of the dam.
Authorities ordered thousands of residents to abandon their homes south of the nation's tallest dam in northern California due to a predicted spillway collapse. It's essentially an ungated 1,700-foot-wide notch in the rim of the reservoir, which began overflowing Saturday morning, days after the dam's concrete-lined main spillway began to crumble.
Sheets of water began spilling over the dam's emergency spillway for the first time in its 50-year history after unexpected erosion crumbled through the main spillway earlier this week, sending chunks of concrete flying. According to CNN, California Fire incident commander Kyle Lawson said that the damage could have sent a 30-foot wall of water downstream. Officials said they plan to use bags of rocks to plug the hole in the emergency spillway, but the situation is still precarious.
The primary spillway for the tallest dam in the United States is on the verge of failing.
In this handout provided by the California Department of Water Resources (pixel.water.ca.gov), Water from the Oroville Dam Auxiliary Spillway at Lake Oroville continues to flow and has eroded the roadway just below the spillway that leads to the spillway boat ramp February 12, 2017 in Oroville, California. Those potential flows could overwhelm the Feather River and other downstream waterways, channels and levees.
More news: Cicilline calls for release of Flynn call transcripts with Russian ambassador
"We needed to get people moving quickly in order to protect the public and save lives if the worst case scenario did come to fruition", Honea said.
After so much rain and snow in recent weeks, water began flowing from Lake Oroville into a spillway created for the very objective of relieving pressure on the dam.
The maps below shows the areas where there are some level of evacuation order in place across Butte, Yuba and Sutter counties.
Oroville Mayor Linda Dahlmeier said on Monday that the lake's elevation had dropped 5.5 feet below the top of the emergency spillway. "This is an evacuation order". They also hope to drain almost 400 billion gallons of water from the lake to lower water levels 50 feet, a tall order.
Residents of Oroville, Gridley, Live Oak, Marysville, Wheatland, Yuba City, Plumas Lake, and Olivehurst were all ordered to evacuate immediately, authorities said. The waters met the emergency spillway, which hasn't been used since 1968, and then poured over.